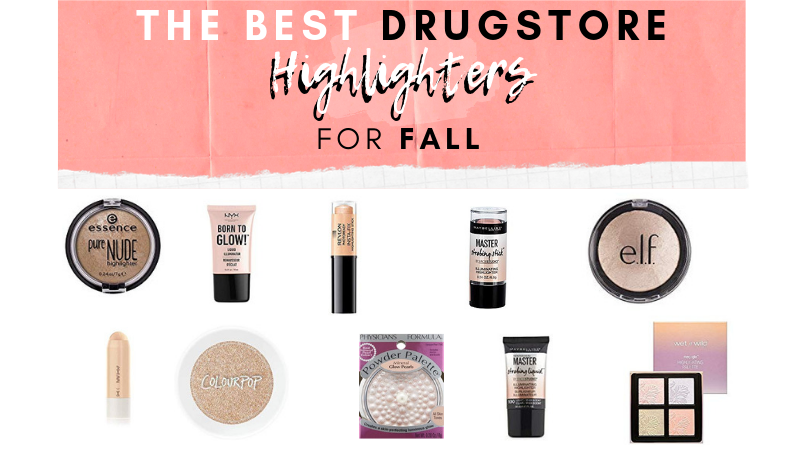 The Top 10 Best Drugstore Highlighters
Who doesn't love a beautiful, dewy illuminated face?! This looks just screams i just returned from the spa after the most amazing week of my life, but the best part of it is you are in the middle of an insane work week all while juggling the kids. This is a complete list of the best highlighters you can pickup online or at a drugstore for cheap that performs as well as high-end.
"Our creamy highlighting stick comes in two gorgeous shades, with light-reflecting technology to enhance your cheekbones and brow bones. "
Raing: 4.5/5

"Essence Pure Nude Highlighter adds luminescence to cheeks, temples, and brow bone for a gorgeous glow effect. The baked formula applies smoothly while the light texture blends easily for a natural looking finish. "
Raing: 4.6/5

"This is a Unique palette of multi-colored pearls blends together to create an instantly glowing complexion and a perfectly even skin tone. Real Mineral Pearl Extract delivers a luxurious skin-perfecting effect. "
Raing: 4.7/5

"Adds radiance and dimension to the face for the ultimate glow! "
Raing: 4.8/5

"This creamy formula combines with micro-fine pearls to boost skin glow. The strobe effect creates the look of skin that appears radiant and lit! "
Raing: 4.8/5

"Infused with Vitamin E, this highlighter creates a beautiful radiant glow with a sheer wash of shimmering color. "
Raing: 4.7/5

"I love this highlighter because it gives my skin a natural, dewy, healthy glow, without any chunky glitter. "
Raing: 4.8/5

" These highlighting powders give an amazing glistening glow when applied to the cheek bones, brow bone, and cupid's bow."
Raing: 4.7/5

"This illuminator is absolutely stunning and very affordable. "
Raing: 4.8/5

"Chubby is an illuminating highlighter with a long lasting glow in a self sharpening jumbo crayon. "
Raing: 4.6/5

So whether you want to have highlight on fleek, glow to the gods, or have a beautiful soft natural glow, this list is here for you. None of these products will break the bank so feel free to try out more than one to achieve your look!
Enjoy this post? Pin It! Sharing is Caring

♥